Tennessee AgrAbility educates and assists Tennessee's farmers, farm workers and their family members that have disabilities so they can increase their independence and productivity.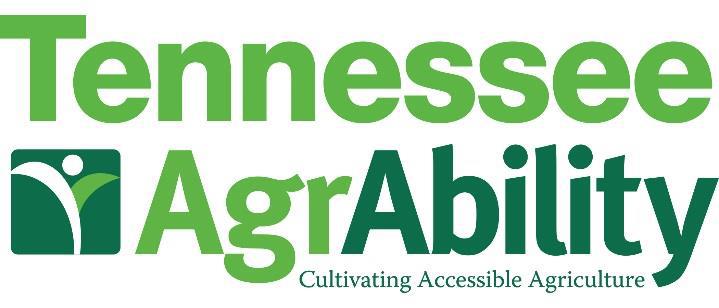 Our mission is to enhance and protect the quality of life and preserve livelihoods for farm families touched by disability.
Since 1994, Tennessee AgrAbility has assisted over 1000 farmers with disabilities to increase their independence and productivity and continue farming.
How do we help our clients accomplish some their goals? We listen to their stories – what they have done in the past and what they want to do in the future, both short- and long-term goals. Then we gather a group of specialists to evaluate their plans and make suggestions for how to best accomplish those goals. Depending on the situation, we may suggest modifications for equipment and structures, but we may also be involved in long-term development of new enterprises. As you might expect, we sometimes have to modify and refine the plans to find the best solutions.
Tennessee AgrAbility provides individualized assistance through a network of educators and service providers. Some of the services are:
farm and home assessments to identify accessibility and safety concerns
health and safety education to reduce secondary injuries
plan home and worksite adaptations that increase independence and productivity
link families to sources of financial assistance and peer support networks
review agricultural enterprise resources and goals
The Tennessee AgrAbility Project is a collaboration of: