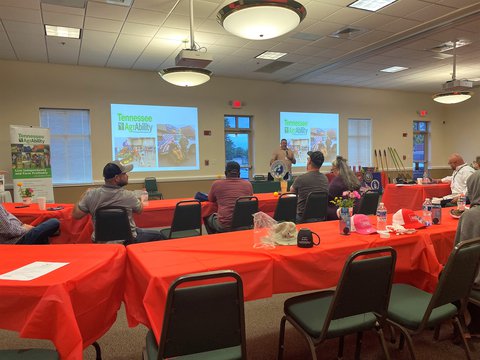 TN AgrAbility joined with the Farmer Veteran Coalition (FVC) of TN for their one-year celebration as a state chapter of the Farmer Veteran Coalition in May! Activities included networking, sharing ideas, listening to the state of the chapter, and introducing the leadership representing East, Middle, and West TN. They also announced the TN Fellowship Fund winner and Tractor Supply Company Fellowship Awardees for 2021. National FVC announced in a press release the Fellowship Fund applicants facts at-a-glance:
87% are veterans, 13% still serving
49% Army, 19% Marines, 18% Air Force, 16% Navy, 2% Coast Guard
79% enlisted, 21% officers
76% post 9/11
69% report being wounded, injured, or ill as a result of service
78% report less than $10,000 in farm sales last year
44% grow vegetables, 36% poultry, 33% fruit, 27% bees, 25% cattle, 23% berries, 22% flowers
Highest number of applicants are from Texas, followed by North Carolina and Tennessee tied, then Michigan, New York and Virginia tied.